Living in Fuerteventura
Having it all
Fuerteventura is a natural paradise where the sun always shines.
Less than 4 hours from London, 5 hours from Munich and just 2.5 hours from Madrid, the island offers both peace and quiet and fun and activity, something that is becoming increasingly appreciated.
The island is a Unesco biosphere reserve, with 150 km of beaches of fine white sand, walking trails, sand dunes, volcanic landscapes and a starlight reserve, making it an appealing destination for all ages and one of the most visited of the Canary Islands. Water sports and open-air activities, discrete, laid-back settings, shopping and leisure areas, an international airport, traditional villages and all the services you might need.
Landscapes and experiences
In Fuerteventura you can relax, have fun, do sports or enjoy nature and the island's beaches, such as La Guirra, protected from the waves, in a comfortable environment with a number of 4- and 5-star hotels, a Thalasso spa, numerous restaurants and two fine golf courses nearby.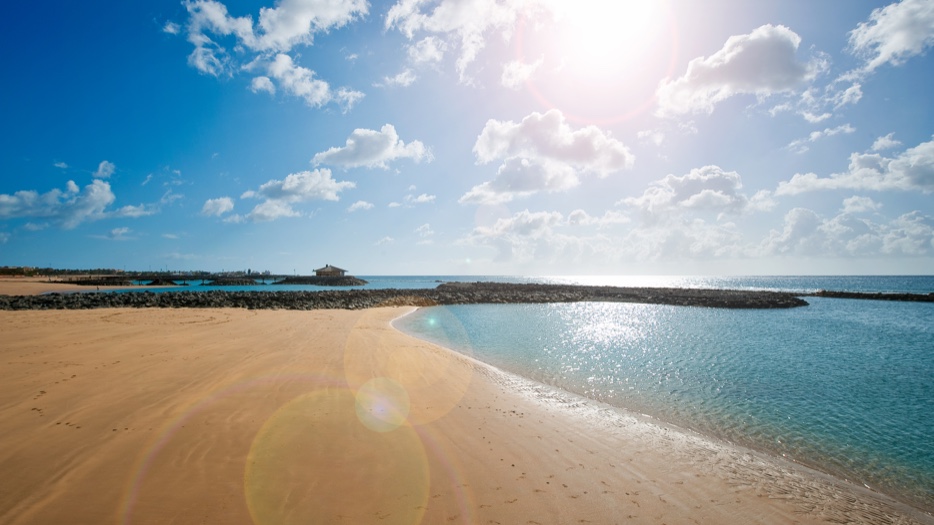 La Guirra beach, Antigua, Fuerteventura. Beach and sunshine.
Culture and tradition
Tiny picturesque villages dot the interior and sheltered parts of the coast in which age-old traditions and customs are still maintained. Friendly people who are happy to share their cultural legacy, celebrations and way of life with the newer arrivals and visitors.
Lighthouses, traditional buildings and charming little museums preserve the roots and historical values of the "Isla Maxorata", a medieval name for Fuerteventura.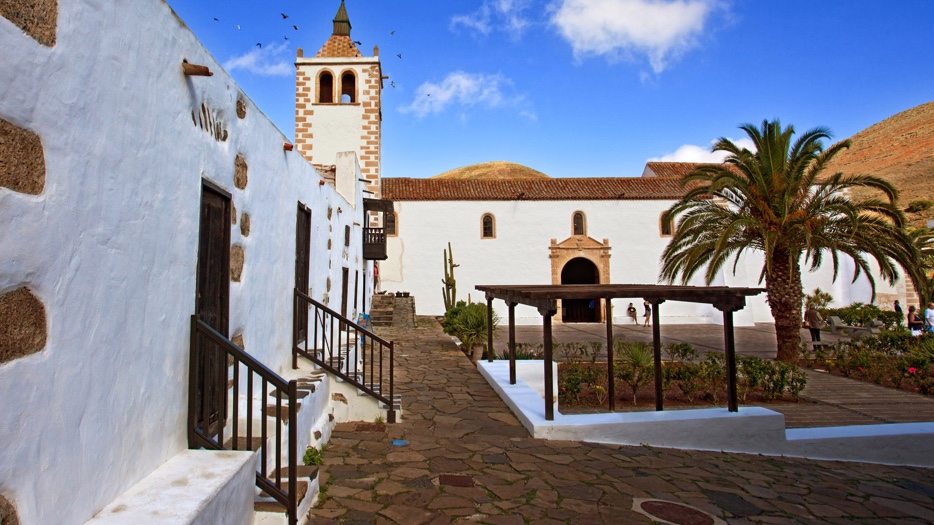 Betancuria. Tradition and culture.
Living and sharing
If you have always wanted a house by the beach, surrounded by nature and peace and quiet, while also being able to enjoy all the comforts and services you might want, if you are looking for a paradise for your next holidays, then we recommend Fuerteventura Golf Resort.
150 hectares of natural beauty and leisure, of excellent services, luxury and intimacy.
We have always dreamed of a beautiful house in a place where the sun always shines in order to forget the long, cold winters of our hometown Dal, near Bergen in Norway. Whenever we visit the island we're so glad we've come and can share these days with our children and grandchildren. Relaxation, peace and the good company of our neighbours from many different places in Europe means we are always looking forward to returning.
Fuerteventura Golf Resort